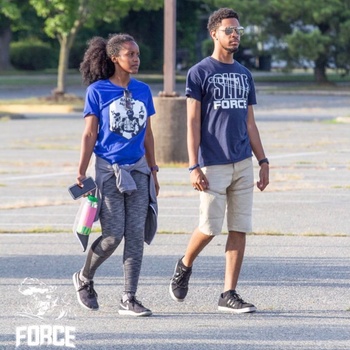 We first met in July 2018 at Hampton University's High School Band Camp (HUBC)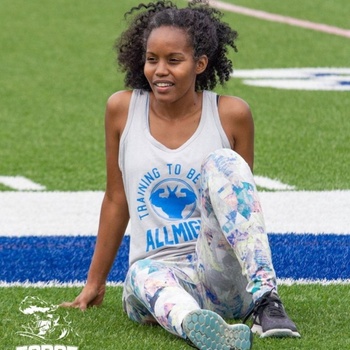 I saw Dr. Jones' post about needing clinicians to come to HUBC, so I signed up to help the dancers. I had no idea what was in store. I was just happy to go back and help.

Trey was talking to Davaron, who I marched with, so I knew he must be cool. So we started talking, and he kept me laughing. It felt like I had already known him.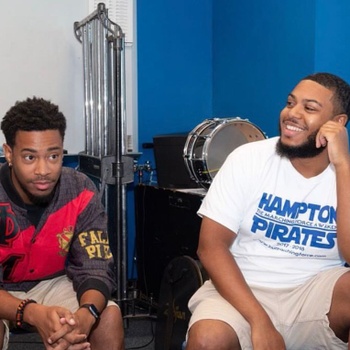 I had just finished my first year as a band director, and that year I sent two students to HUBC to represent my band program. I was on Facebook and saw a video showing the first day of HUBC, and both of my students were showcased in that clip.

I remember pulling up to campus early that morning, and I saw a beautiful girl stretching in the corner. I asked my big brother Davaron if he knew who she was. Luckily, Keah and I had been Facebook friends for 8 years at this point!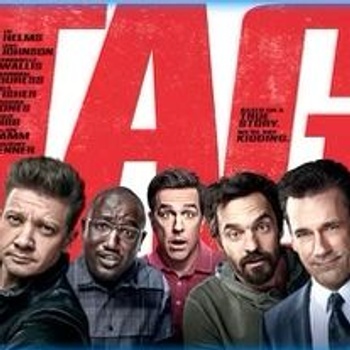 Keah's Side: Trey really surprised me because he was so direct. At the end of HUBC, he says, "I'm attracted to you and would like to take you out on a date." I wasn't used to anyone being so up-front. He asked me to the movies, and I like comedies, so I suggested "Tag." I was supposed to leave the next day, but my flights kept being canceled for the next 3 days, so we just kept getting to know each other.

Trey's Side: So, it depends on what you consider the first date:
Do you consider the failed attempt where Shallah invited himself to our lunch date? If not, then I guess you're talking about how I did the 21st century version of "do you like me? Check yes or no," where I DM'd Keah one of the cheesiest lines to date? I don't think she knows this, but as soon as I sent it, I was like "woooooooow, so smooth Trey… Luckily it worked! So, after finding out she liked me, a proceeded to ask her to the movies.

Fun fact, our first date took place at like 11:30 at night because I attended two of my closest friends' wedding!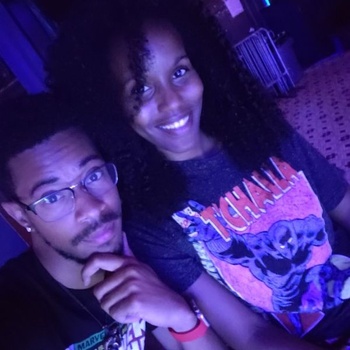 Keah's Side: I came back to Hampton for regular band camp, but I needed to go home for Baby Doll Ladies Training Camp. If I flew back, I wouldn't be able to come back to band camp. Trey offered to road trip with me, which was super sweet, so I treated him to my favorite restaurant, Praline Connection, and showed him Frenchman Street for the first time.

On the way back to VA, in a McDonald's drive-thru, he asked to make it official.

Trey's Side: By this point, Keah and I had been talking for about a month, and she was back in VA helping out HU's band (and she was also hired as my new dance coach). I remember one day I came home, and she was facing a little bit of a dilemma. She had to either find a way to New Orleans or fly home early, and Lord knew the next time I would see her…

So, being the impulsive Gemini I am, I called my dad to tell him I was taking off work to drive this girl I had just met halfway across the country. Having had the supportive father I had, he sent me money to service my car, and we took the 19-hour drive. After an amazing first trip to the Big Easy, meeting her amazing friends and family, and a round-trip car ride, what better place to make it official than a McDonald's Drive Thru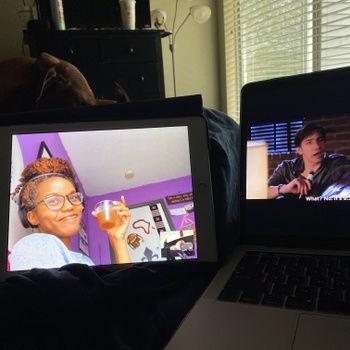 Keah's Side: Long distance can be challenging, but we made it fun. From cruises to trips to Rome, every time I saw Trey, it was an adventure.

Trey's Side: As you can imagine, me living in VA and Keah living in Louisiana at the time was a little bit of an obstacle, especially during the pandemic. Luckily, we have technology. Between endless FaceTime calls and multiple virtual movie nights, we made the best of our situation!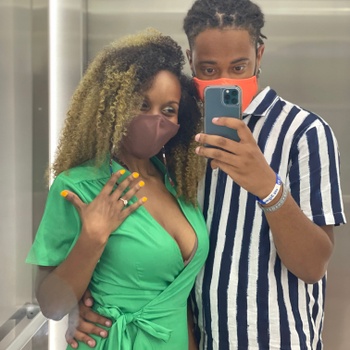 Trey's Side: After about 2 years of being together, I knew that I wanted to spend the rest of my life with Keah. The actual proposal couldn't have worked out any better. I remember that year, I made sure to use my tax return on an engagement ring. After acquiring the ring, I sent a picture to my both of my sisters in law and the plan commenced:

Phase 1: Find away to get Keah out of the house so we could set a Zoom call to ask her family for their blessing.

Phase 2: Plan the actual proposal. Luckily my homeboy Jae and I were planning a group trip to Punta Cana. If it wasn't for his help, I either would've messed up the proposal, or passed out from stress!

Phase 3: the Actual Proposal. After a long day of excursions, I decided to splurge on the private romantic dinner. Of course I had to stream it to all of our close family and friends, so that they could be a part of this moment. Of course Murphy's Law wanted to show out and the GoPro wasn't cooperating, so one horrible, a poorly placed, not so hidden ipad camera, and a bumbling idiot saying something that resembled the English language, I had a fiancée!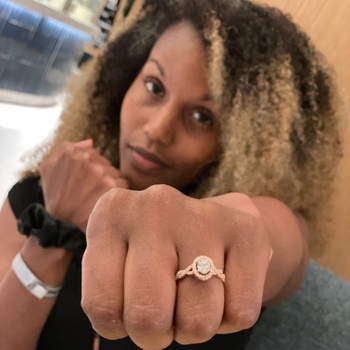 I thought he was gonna push me in the pool.